"As you grow older, you will discover that you have two hands, one for helping yourself, the other for helping others."
Audrey Hepburn
NBC 4 Health & Fitness Expo
The DCDS Foundation sponsors a booth where Dr. Angela Noguera and her husband Dr. Ali Fassihi volunteered to perform free oral cancer screenings.  Dr. Noguera is a board member of the DCDS Foundation, which is dedicated to providing oral health care and education throughout the community.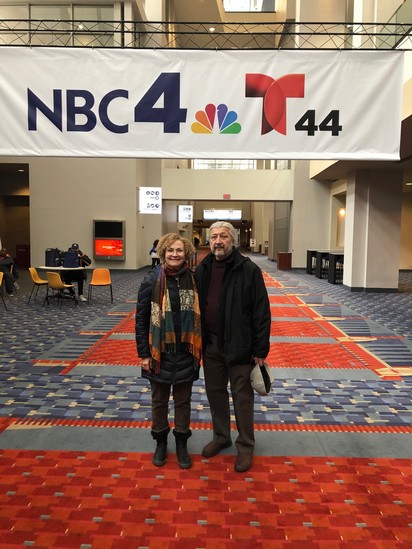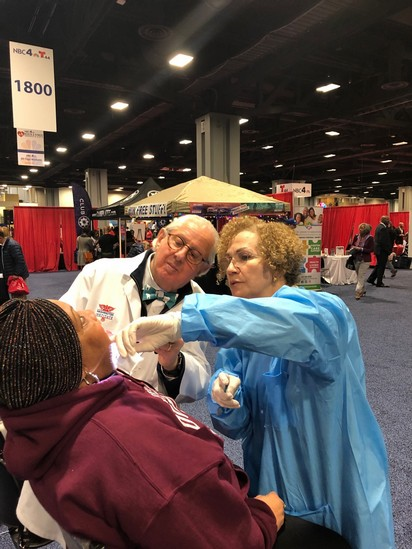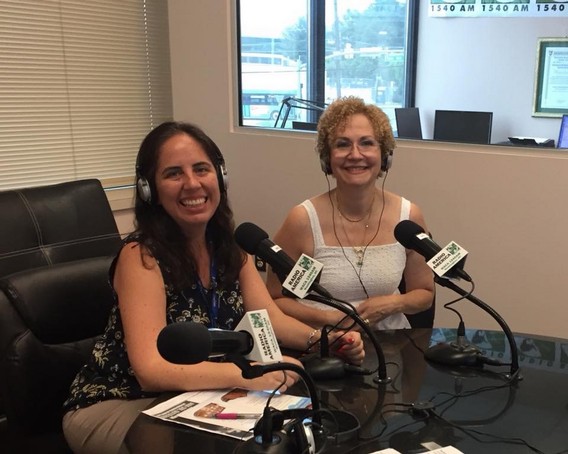 Radio America
Dr. Lucciola Lambruschini, Director of Dental Services, Catholic Charities, and Dr. Angela Noguera.  Dr. Noguera was the guest of Catholic Charities on Radio America 1540 AM. On this program, they strive to educate the Spanish speaking community regarding education, health, and housing services available.  Dr. Noguera participated in a discussion about dental infections, oral health, and hygiene.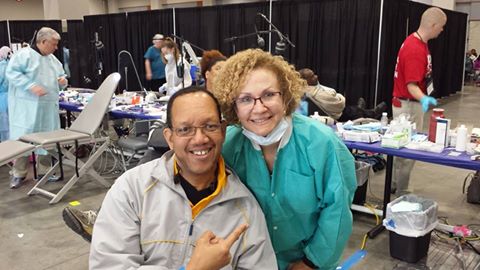 Mission of Mercy
Great day at the ADA, Mission of Mercy (MOM)! Here I am with one of my patients, to whom we were able to do a much-needed root canal in his front tooth, as well as bleach a very discolored central. Needless to say, he was thrilled, as the bleaching was just the "icing on the cake." He insisted on a selfie for his wife. With us is Rosemary, who assisted me for the day.  She is a 3rd-year dental student at Howard University. It was a great team effort... This is when I feel so happy to be a dentist and an endodontist... It is all about the twinkle in their eyes and the great smile when treatment is done! Thanks Pete for the pictures!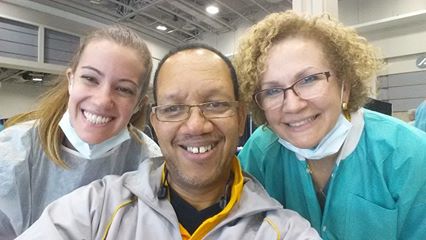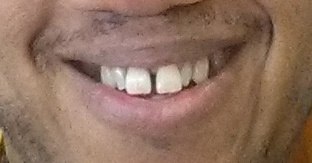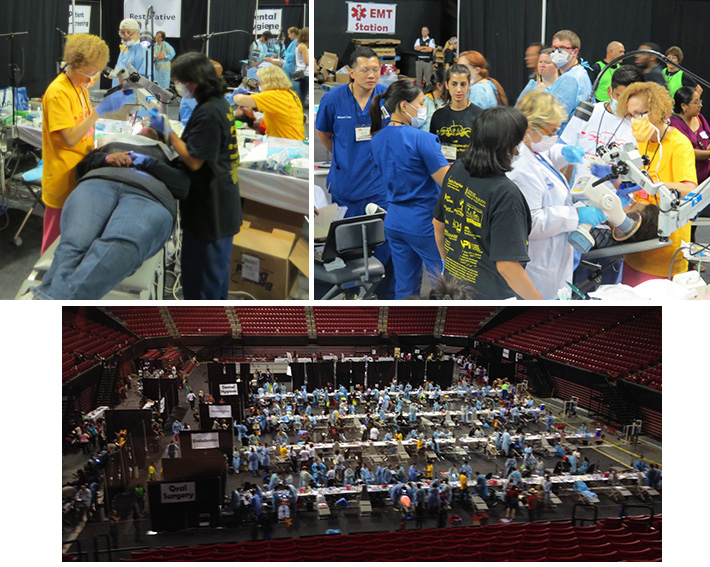 NBC4 Health and Fitness Expo
Dr. Noguera volunteering at the Health & Fitness Expo providing free oral health screenings at the DC Dental Society Foundation booth. Over 1,000 patients received free oral cancer screenings and among them, one in particular who's last check-up was about 150 years ago.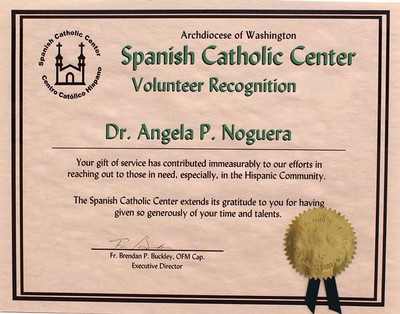 A Tribute
Dr. Angela P. Noguera has been a dedicated volunteer for the Spanish Catholic Center dental clinic since 1989. She has performed hundreds of perfect root canal treatments for our patients in that time. She has a dedicated interest and concern for each low income, uninsured immigrant who passes through her dental office and follows-up to make sure that their care continues. Dr. Noguera is a role model for all those she meets and treats by her professionalism and kind, gentle manner. As a friend of the Spanish Catholic Center, she always been supportive of our activities and has served on Committees and Boards, the most current being the Latino Advisory Committee of the Catholic Charities Board of Directors. We are grateful for our long relationship with Dr. Noguera and pray that God will grant every blessing to her, her family, and her practice for many years to come.
Fondly,
Sister Janice Heisey, IHM
DC Dental Clinic Administrator
Spanish Catholic Center